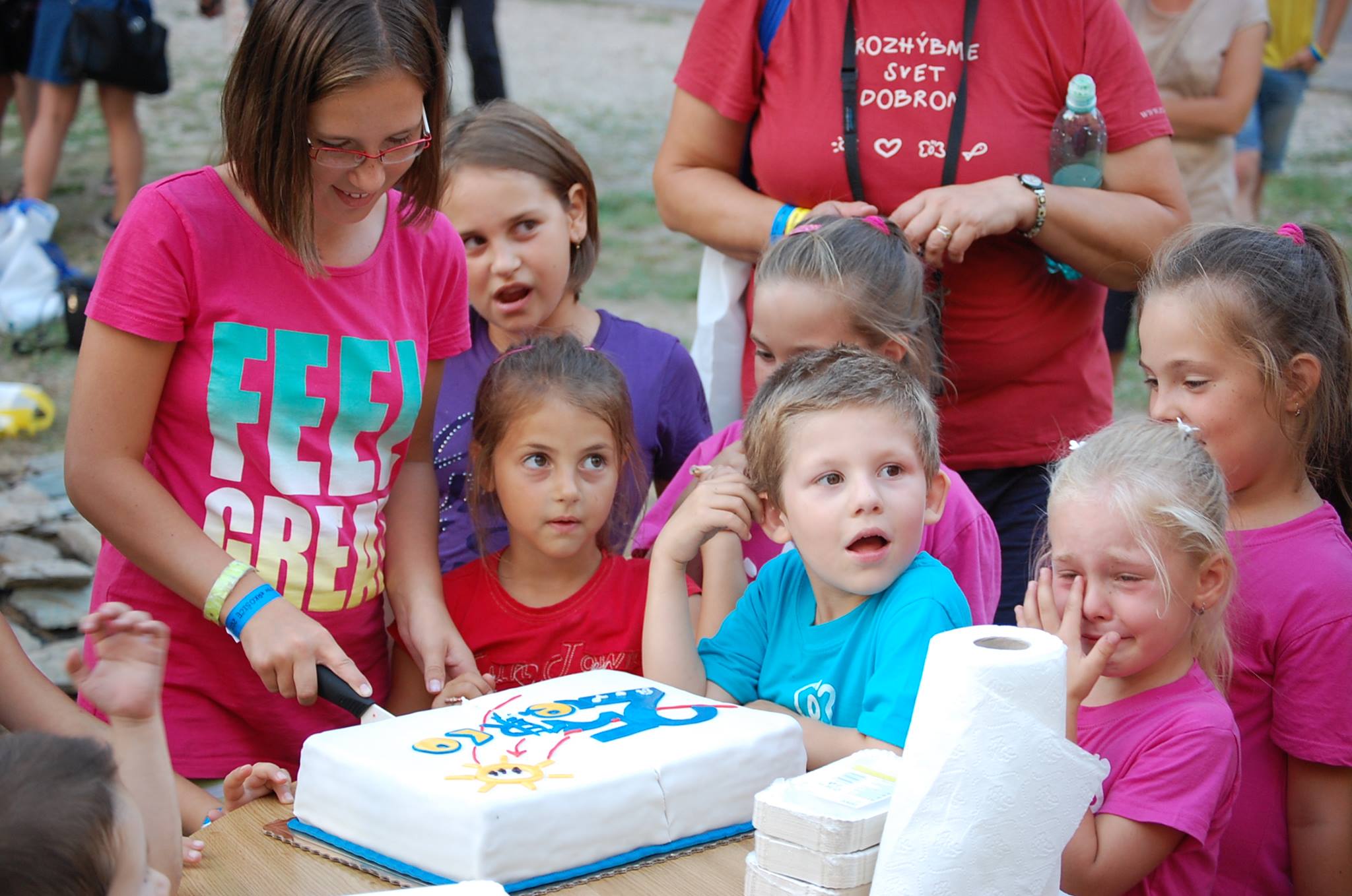 As you all know, this year we celebrate 25 years of eRko. We decided to celebrate this special year together by thanksgiving pilgrimage of eRko members called eRKOSICE 2015. It all started at Saturday 29th August in the metropole of the East of Slovakia – in Kosice. In the place, where our patrons – Saint Stephen, Saint Melchior and Saint Mark were born for heaven. Simultaneously we celebrated the 20th anniversary of their canonization by the pope John Paul II.
There wasn't a little number of us. More than 400 members of eRko came there and our 3 foreign friends from an organisation KIM from Hungary joined us too. The event started at 8 o'clock in front of the Cathedral of Saint Elizabeth where girls from registration waited for us. Whole Main Square was dressed up by eRko stands with propagation materials about magazine Rebrik and carol-singing action Dobra Novina and special stand INSIGHT to history of eRko. People in eRko T-shirts welcomed from distance.
Program started at 11 o'clock in the Cathedral by mass that was celebrated by archbishop of Kosice Mons. Bernard Bobber. In the homily he refered the example of the martyrs of Kosice that were martyrized on 7th September 1619 during the uprising of Gabriel Betlen. He encouraged us to volunteer to work with children.
Even the eRko-shop wasn't missing at eRKOSICE where we could buy something good. There was also rich selection of eRko workshops + an option to play a game about martyrs of Kosice in the centre of the city or to go to the silent adoration. I personally chose to accept an invitation of an International Committee of eRko for a lunch with our hungarian guests with which I stayed all day. Together we visited the workshop about WorldCamp in Rwanda where Veronika Mozolova, slovak participant of WorldCamp talked about three weeks spent in the country of thousands of hills. She also served us with tasty african tea. After that we chose to workshop Wanderings of Kosice with Milan Kolcun so we could get to know the history of the city and its monuments. We finished my day with my new friends by story-telling about the early history of both our organisations with founders of eRko. After that we accompanied them to station and said goodbye to them.
In the evening after the prayer in Cathedral of the Birth of Most Holy Mother of God the squire Milan Chautur welcomed us in the courtyard of Episcopal Eparchy with which we could talked about eRko. After the eRko prayer in which we prayed for new animators and for those who were given a service in leadership of eRko, bishop confered us with the episcopal blessing. After that the cake was festively cut by the most important members of eRko – the children. The day in eRKOSICE we ended by dancing a Polonaise and other dances with small agape.
-AG-